Happy Dog Supreme Sensible Africa
The exceptional tasty super premium complete food Happy Dog Africa is ideal for all demanding dogs who are looking for something special or are simply rather picky. It combines African ostrich as the only animal protein and potatoes as the only carbohydrate source to create a unique recipe.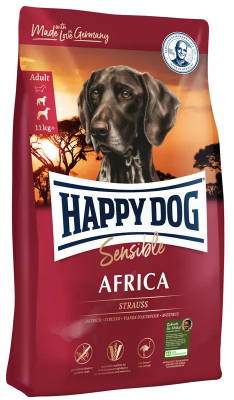 Ostrich is a very rare protein source – that is why there are hardly any allergies known against ostrich. Therefore, it is an ideal animal protein for dogs with food intolerances. The Happy Dog Africa is such also perfect for a dog that needs to go onto an elimination diet. It is particularly suitable for food-sensitive or even allergic dogs with their special needs. Moreover, as ostrich is naturally a source of meat with low fat, cholesterol and calorie contents, it is also optimal for dogs that require a variety with moderate fat content (overweight dogs or dogs suffering from EPI, etc.). Ostrich meat is naturally high in iron which is important for the energy metabolism in cells and most important the oxygen transport in the blood. As ostrich protein is very digestible, it leads to less "waste" – which means for the owners "Less poop to scoop"! And last but not least, ostrich meat is exceptionally tasty and thus also attractive for picky eaters or dogs that are looking for a special treat.
Potatoes build the carbohydrate source in the Happy Dog Supreme Africa. They do not contain any gluten and are recommended for animals with grain intolerances. Valuable omega 3 and omega 6 fatty acids - important for healthy skin and a shiny coat - round off the exclusive recipe. The croquettes are perfectly adapted for the teeth of medium and large-breed dogs.
The Happy Dog Supreme Africa also contains the unique Happy Dog Natural Life Concept®which is made from natural ingredients, such as selected herbs for stomach, intestines and circulation, apple and fruit components for healthy digestion, essential trace elements for life and to help prevent deficiencies. An included supplement of New Zealand Mussels supports healthy joints, tendons and ligaments. The Happy Dog Africa is, like all Happy Dog foods, made using high-quality raw materials which gives it a particularly high digestibility (over 90%) and therefore making it a very wholesome product to the highest standards! It is available as Supreme Africa for medium and large size breeds but also as a Mini variation for small breed dogs (up to 10kg bodyweight).
"But Happy Dog is not only taking care of your pets, we take responsibility towards humans, animals and the environment in various initiatives and projects."
You can also support the "Future for Africa" initiative by buying Happy Dog Supreme Sensitive Africa - Happy Dog will donate up to 1.30 Euros from the sale of every pack of Africa sold (1kg and larger)!
Over 840,000 Euros have been collected to date through this great donation campaign. This money has been put to the following purposes in the last few years:
1000 children and pupils in Bujumbura (Burundi) receive a hot meal every day
Construction of a residential school for girls with 7 dormitories
Construction of 4 new workshops for the fields of carpentry / electrical installation
Construction of a sewerage and small-scale treatment plant
Preparation of an environmental study
Thicker concrete layer in the ground floors of the buildings
Installation of further metal doors
With the help of Happy Dog, children and young people in Kigali can prepare for an independent life and look forward to a secure future. Another project amongst others is the 'Billion Tree Campaign - Growing Green'. Plant for the Planet is supported by Happy Dog: Since the start of 2011 we have invested 5 Cents per pack in reforestation – this will probably allow 2,500 trees to be planted every year. Written by Dr. med. vet. C. Mederle